Dr. Michael Collaborates with St. Vincent's/Mayo Clinic Cancer Program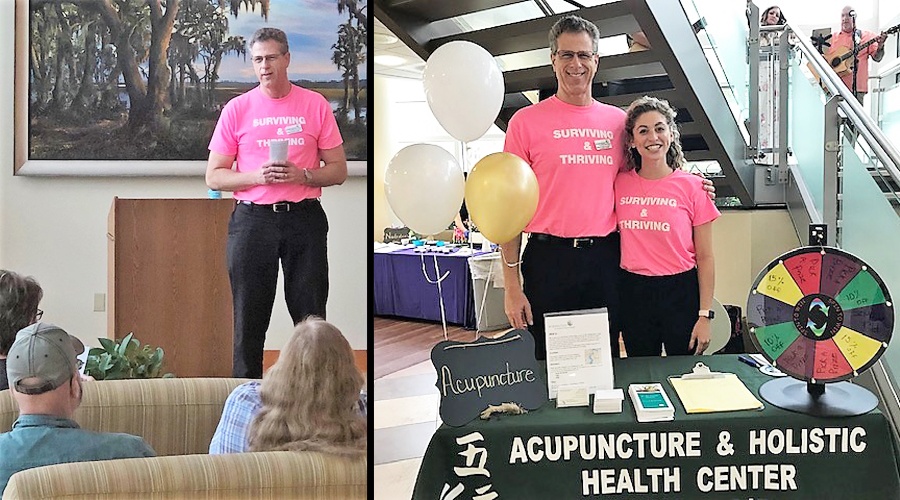 On Saturday, June 22nd, Dr. Michael Kowalski A.P., Dipl. Ac. (NCCAOM) presented a lecture to cancer survivors and their families. His presentation was part of St. Vincent's/Mayo Clinic's Cancer Survivorship Day event at the St. Vincent's-Riverside Terry Cancer Center.
After Dr. Chanan-Khan MD of Mayo Clinic presented his talk about how St. Vincent's/Mayo Clinic are integrating acupuncture and other evidence-based holistic modalities into their combined cancer program partnership, Dr. Michael gave a heartfelt talk on "Surviving and Thriving: Acupuncture for Managing Symptoms of Cancer Treatment". Dr. Michael spoke about his 35 years of experience in treating cancer patients for side effects and symptoms of chemotherapy and radiation treatments. He highlighted his role in providing acupuncture for both cancer patients undergoing treatment as well as for cancer survivors at Mayo Clinic Jacksonville's Breast Center, in Mayo's 2017 Integrative Medicine Pilot Program. Treating cancer patients has always been a special interest of Dr. Michael's, as cancer has affected members of his own family.
The good news is that advances in medicine are helping more cancer patients survive their battle with cancer. However, most cancer patients develop multiple side effects from the chemo, radiation, and/or surgery related to their cancer treatment. Many of these patients have taken so many drugs already that they would prefer to avoid taking additional medications for the symptoms they develop. This is where acupuncture can be so helpful. Acupuncture is a proven safe and effective way to treat many symptoms that cancer patients get from treatment, including:
Nausea
Muscle and joint pain
Post-operative pain
Digestive problems
Fatigue
Anxiety
Depression/mood changes
Hot flashes
Insomnia
Neuropathy
After his talk, Dr. Michael and his Research Assistant Michelle staffed a table at the Survivorship Day health fair, speaking with cancer survivors about the benefits of acupuncture. Dr. Michael is honored to have been invited to participate with St. Vincent's and Mayo Clinic in their cancer program partnership. It provides another opportunity for him to help educate cancer patients about the role acupuncture can make in their recovery and for improving their quality of life.
For more information about how acupuncture can help you or your loved one in cancer care, call Dr. Michael Kowalski at the Acupuncture & Holistic Health Center in Jacksonville at (904) 296-9545.
By Michael Kowalski, A.P., Dipl.Ac. (NCCAOM)
Jacksonville Acupuncture Physician
@ Acupuncture & Holistic Health Center