Product Hightlight: HTN 180 Px – Cardiovascular Support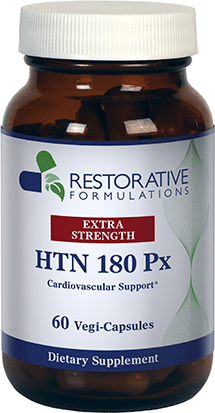 HTN 180 Px is designed to promote healthy blood pressure levels in patients who have difficulty controlling their blood pressure despite significant dietary and lifestyle modifications. Many patients who don't tolerate prescription drugs can tolerate the herbs found in HTN 180. In some cases where prescription drugs are not sufficiently controlling blood pressure, HTN 180 can further assist in promoting healthy blood pressure without adding unwanted side effects. HTN 180 is particularly indicated when anxious mental states, insomnia, and poor sleep patterns are contributing to elevated blood pressure.
Background Information: HTN 180 Px contains fast-acting herbs that can often bring down stubborn blood pressure problems within 2-3 days. Some people can't tolerate or develop negative effects from conventional drugs for one reason or another. In other cases, drugs are not sufficiently effective. HTN 180 Px can often be helpful as an alternative or complementary way to help manage blood pressure issues.
Warning: High blood pressure is potentially dangerous. For this reason, we recommend that HTN 180 Px only be used under the supervision of one of our acupuncture physicians. Similarly, we recommend that the discontinuation of any prescription high blood pressure medicine be done only as instructed by a medical doctor. Blood pressures should always be monitored regularly.
Drug Interactions: Although there are no historical records of people developing too low blood pressure with herbal management, one should be aware of the possibility especially if taking pharmaceutical drugs at the same time. It is important to remember that anti-hypertensive pharmaceutical drugs need to be weaned off gradually, usually within a 2-week period.
---
We offer discounts on different supplements like this one to everyone who receives our monthly newsletter. If you would like to receive future discounts, join our monthly newsletter.
To order this product now, CLICK HERE.