Insight I: The Awakening Heart
THIS TUESDAY, JULY 25, 2017 – RSVP TODAY!
SEATING IS LIMITED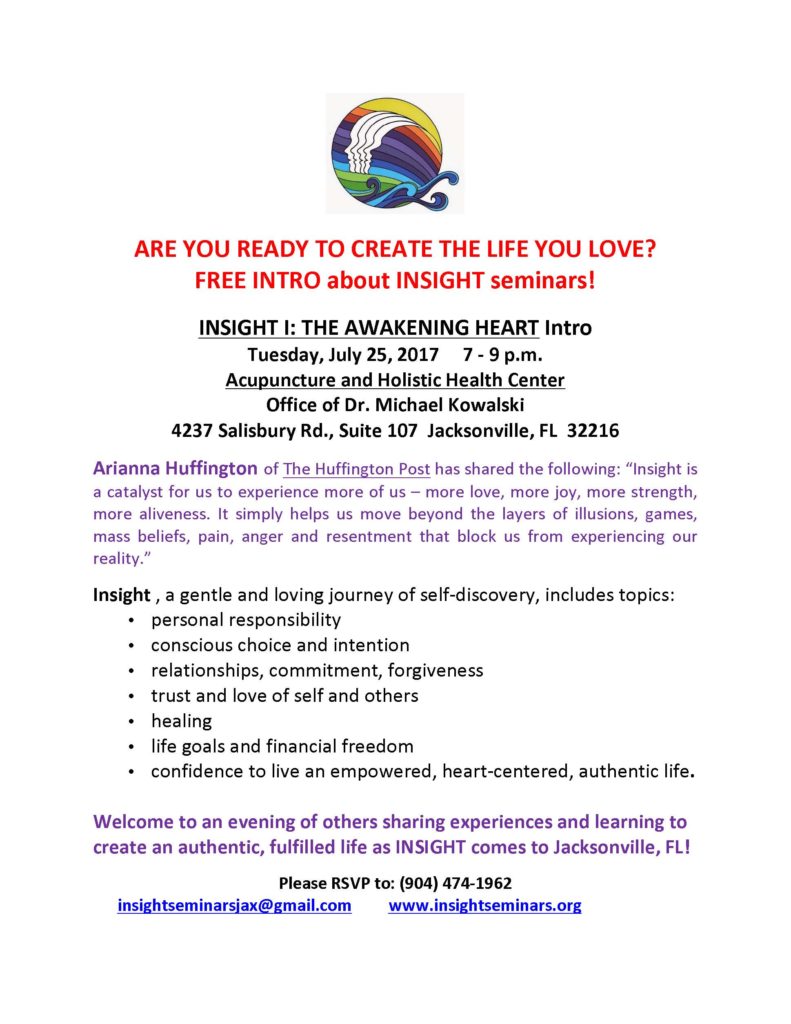 ARE YOU READY TO CREATE THE LIFE YOU LOVE?
FREE INTRO about INSIGHT seminars!
INSIGHT I: THE AWAKENING HEART Intro
Tuesday, July 25, 2017, 7 – 9 p.m.
Acupuncture and Holistic Health Center
Office of Dr. Michael Kowalski
4237 Salisbury Rd., Suite 107 Jacksonville, FL 32216
Arianna Huffington of The Huffington Post has shared the following: "Insight is a catalyst for us to experience more of us – more love, more joy, more strength, more aliveness. It simply helps us move beyond the layers of illusions, games, mass beliefs, pain, anger and resentment that block us from experiencing our reality."
Insight , a gentle and loving journey of self-discovery, includes topics:
• personal responsibility
• conscious choice and intention
• relationships, commitment, forgiveness
• trust and love of self and others
• healing
• life goals and financial freedom
• confidence to live an empowered, heart-centered, authentic life.
Welcome to an evening of others sharing experiences and learning to create an authentic, fulfilled life as INSIGHT comes to Jacksonville, FL!
Please RSVP to: (904) 474-1962
insightseminarsjax@gmail.com
www.insightseminars.org