HTN 180 Px and Blood Pressure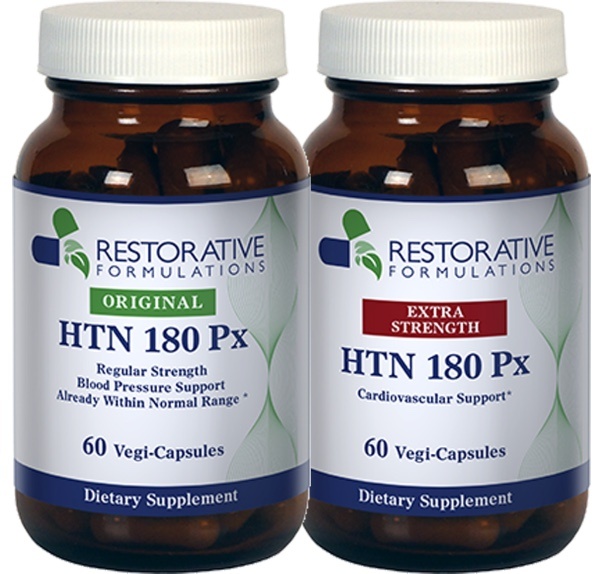 Half of adult Americans (47%, or 116 million people) have high blood pressure. When you experience high blood pressure (HBP), it forces your heart to work harder to pump blood to the rest of the body. This causes the force of your blood pushing against the walls of your arteries to be too high on an ongoing basis.
Often, people with hypertension find that managing blood pressure by lifestyle changes alone is not enough. These people may turn to prescription blood pressure medicine, which can have side effects. These can include dizziness, headaches, swelling in the legs or feet, or stomach problems. Men who take blood pressure medications can develop loss of libido or even impotence.
Restorative Formulations has designed HTN 180 Px to promote healthy blood pressure levels in patients who have difficulty controlling their blood pressure despite significant dietary and lifestyle modifications. The patients who do not tolerate prescription drugs can tolerate the herbs found in HTN 180 Px, without the unwanted side effects.
Besides the potentially serious impact HBP has on the heart and other organs of the body, the symptoms of HBP can be quite disturbing. Symptoms can include vision changes, nosebleeds, irregular heart rhythms, and buzzing in the ears. When HBP is severe, the symptoms can result in chest pain, anxiety, confusion, muscle tremors, nausea, fatigue, and vomiting.
Under supervision, patients can benefit from HTN 180 Px when jointly combined with lifestyle improvements. For a more comprehensive approach to HBP, the Acupuncture & Holistic Health Center also adds a personalized course of acupuncture. We also track our patients' blood pressure levels and advise them to keep a home log of their blood pressure readings until we have restored their blood pressure to a normal range.
Research has shown that each of the active ingredients in HTN 180 Px can have a positive effect on HBP symptoms. Restorative Formulations specifically blended this formula to support the benefits of each ingredient, creating an integrated all-natural supplement to address hypertension.
African Snake root (Rauwolfia vomitoria) – Primary research has shown the hypotensive effects of Rauwolfia when used as a calming and relaxing agent. There are current hypertension medications that still have components of a Rauwolfia-based blood pressure medicine widely used in the 1950s.
Motherwort herb (Leonurus cardiaca) – Herbalists use Motherwort to treat multiple heart conditions, such as an irregular or fast heartbeat, heart failure, and other anxiety-related heart symptoms.
Hawthorn leaf and powder (Crataegus spp.) – Research has proven that Hawthorn can help manage HBP and protect against heart disease, along with cholesterol. Studies suggest Hawthorn improves circulation, lowers blood pressure, and increases coronary artery blood flow.
Passionflower herb (Passiflora incarnata) – Passionflower helps address heart rhythm problems, including irregular heartbeat, palpitations, and heart failure. People also use passionflower to address anxiety, sleep issues, pain, and attention-deficit hyperactivity disorder.
European mistletoe (Viscum album) – Herbalists widely use mistletoe leaves and twigs to treat circulatory and respiratory problems. Mistletoe has medicinal properties that demonstrate its positive effects as an antioxidant, for reducing blood pressure, and as an anti-inflammatory.
REMEMBER: High blood pressure is potentially dangerous. For this reason, we recommend patients that use HTN 180 Px be under close supervision by their holistic provider and medical doctor. Discontinuation of prescription high blood pressure medicine should be determined only as instructed by a medical doctor. Discontinuing a medication abruptly can often be associated with unpleasant side effects and worsening of symptoms based on your drug treatment. Patients should monitor their blood pressure regularly.
HTN 180 Px (Cardiovascular Support and Extra Strength formulas) are available through the end of October 2022 for a 10% discount! Find out about this natural and comprehensive way to manage your high blood pressure today!

To receive the discount when you order your products in person or over the phone ((904) 296-9545) during the entire month of October, just mention that you saw it advertised in this article. To receive the 10% discount now, simply type in the promotional code "BT22BT" at checkout when you place your order. 
CAUTION: Providers should regularly assess blood pressure while taking this product. This product may increase the effects of prescription blood pressure lowering medications. Patients with bradycardia (BP<60 beats/min) should not use this product. Discontinue use if lightheadedness or low blood pressure occurs. Loose stools and nasal congestion can occur.
PATIENT REGISTRATION REQUIRED: You must be a registered patient of the Acupuncture & Holistic Health Center, located in Jacksonville, Florida, to order this product from our store. If you are not a patient, PLEASE FILL OUT OUR ONLINE PATIENT REGISTRATION FORM. Our holistic doctor will review your information and, if necessary, contact you by phone to conduct a free interview. Upon acceptance as a patient of the Acupuncture & Holistic Health Center, we will fulfill your order.
Dr. Michael Kowalski, A.P., Dipl. Ac.
Acupuncture Physician
Acupuncture & Holistic Health Center
4237 Salisbury Rd, Suite 107
Jacksonville, FL 32216
(904) 296-9545